at the same time, I often forget things.  And it's embarrassing when the thing I forget is OH-SO-STINKIN'-CUTE!
S.M.Artie Brenda sent me this card last week...and I forgot to post it yesterday with the other card ideas!  So I'm giving it its own post, simply because it made me laugh out loud - and I'm copying it!  It's totally worth copying in my book...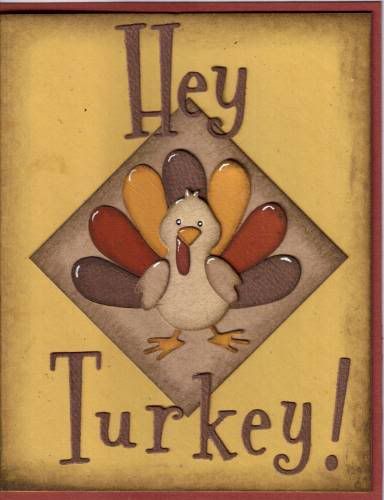 because let's face it - it's the kind of card you'd send to your sister. Or mother-in-law. Or school principal.  Or co-worker.  (Hey Justin...could you email me your mailing address??)
Brenda used not a turkey die, but a mix-match of other dies...
and the QK Katie font
I love that you could make this whatever colored tail feathers you wanted.  I think I'll make my turkey with lime-green and polka dotted feathers.  You know, just to mix things up a bit!
Thanks Brenda - for the cute card!
I'm sitting at the airport right now, bundled up ready for my flight to Seattle.  I'm meeting up with Mr. Doss, Ms. Laura and Sweet Justin - and we intend to explore the entire downtown area.  Seattle, consider yourselves warned!
If you're in the area of the Seattle convention this weekend, I hope you'll stop by and say "hi".  I'm teaching 2 QuicKutz classes and the Scrap-Mart booth is set to be jam-packed with goodies.  We can't wait to see you!
I'll do my best to blog from the hotel...coming up very soon on the blog:
• Bosskut Peekers
• home made envelopes
• Slice video
• what can you cut with your Revolution
• more Silhouette inspiration
• Scenic Route Garland
• glass etching ideas for Thanksgiving
WHEW - I'm exhausted just looking at that list!  The rest of this month is going to be AWESOME!  We hope you'll continue to check back, leave fun comments and let us know what you'd like to see and/or learn!
- - - Susan